Featured in Lamborghini Newport Beach


Lamborghini and Cirque du Soleil teamed up on March 22, at the Bellagio Hotel Las Vegas around a one-off Cirque du Soleil performance celebrating World Water Day. Lamborghini joined forces with One Drop, a charitable foundation started by Guy Laliberte (founder of Cirque du Soleil), to raise awareness and funding for water-related issues facing millions of people worldwide. One Drop's mission is to make clean water accessible to all people across the globe, today and forever.
Lamborghini's participation started the day before with a 22-mile drive from Lake Las Vegas to the Bellagio paying tribute to the challenges faced by those in developing countries to gain access to clean water.
With an Aventador in the actual performance and an Aventador Roadster on display just outside the theatre, Lamborghini proudly supported the entire event with the highlight being an all-new Aventador Roadster raising over $130,000 during the online auction for One Drop!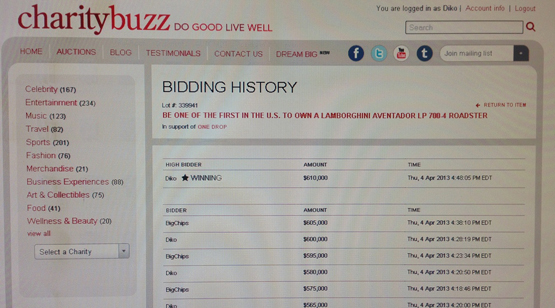 With a final bid of $610,000 the generous winner of the auction is no stranger to the Lamborghini brand. Diko Sulahian, founder and owner of WTW Corp has had quite a collection of Lamborghinis. The One Drop Aventador Roadster will actually be his 10th bull as the list show below:
– 2002 Murcielago Coupe
– 2004 Gallardo Coupe
– 2006 Gallardo Spyder
– 2007 Murcielago LP 640 Coupe
– 2008 Murcielago LP 640 Roadster
– 2011 Gallardo LP 560-4 Spyder
– 2012 Aventador LP 700
– 2012 Gallardo LP 550-2 Spyder
– 2012 Aventador LP 700
Congratulations Diko, we are looking forward to see this LP 700-4 Aventador Roadster in Orange County down PCH!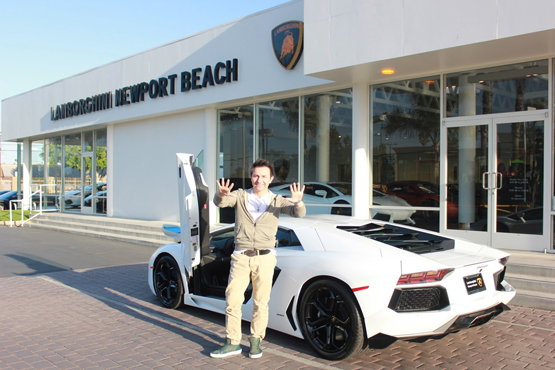 Above: Diko Sulahian taking delivery of his latest purchase last week at Lamborghini Newport Beach. Yes! Number 10 is on its way!